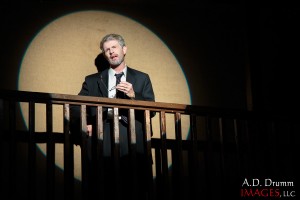 Last week, I photographed my first show at Rochester Repertory Theatre, their production of Tribute. It's a 1970s period drama or comedy or tweener as the director, Bill Schnell, calls it.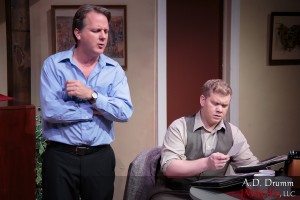 The Rep tends to put on a variety of shows, many lesser known (at least, to me!), with one big musical each spring. They've been around a long time – next season is their 32nd – and provide another local outlet for actors, directors, and theatre-goers.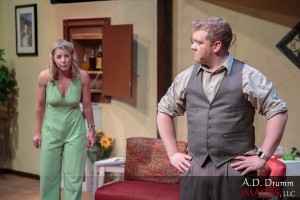 I've seen quite a few shows there, and Lynne has acted on their stage. Their facility is small and can be challenging for the creative staff. But the size can work both ways as the Rep's shows tend to be much more intimate than at other theatres.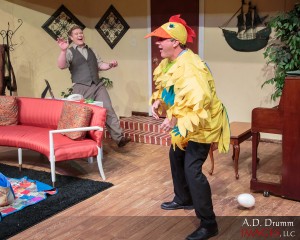 Going into the shoot, I was thinking about how to photograph a show in their space. In many ways, it's not too different from other theatre shoots for me. I generally work pretty close to the action anyway.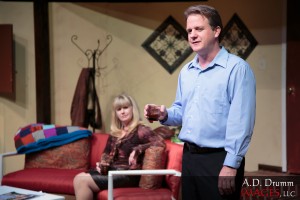 One goal I had was to convey the story and not the size. Regardless of the facility, a good show should draw you into the story. The actors, the lighting, the sound, all help to do this. Once we distill it down to a two-dimensional photograph, though, the other senses are missing. We have to try to capture the emotion in the photo.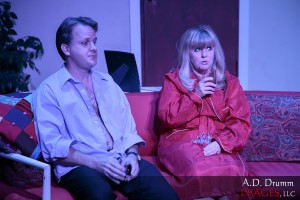 Doing so is always my goal, but here I additionally wanted any limitations in the physical setting to be irrelevant and unnoticeable.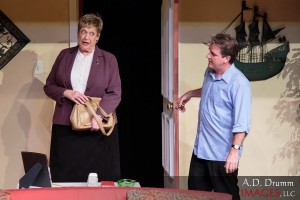 I'm pretty happy with the results. I did take a few wide shots which someone will look upon and think, yep – that's the Rep's stage. But I feel a few of those shots are important for the documentation aspect of the photographs.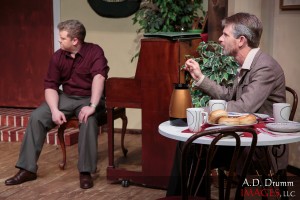 Technically, this is a pretty straightforward show lighting-wise. Box set, reasonably good and balanced lights. There were some bright spots like in the first photo above, a couple scenes with "nighttime" lighting, and a couple places where the contrast from bright to dim required some dancing on my part.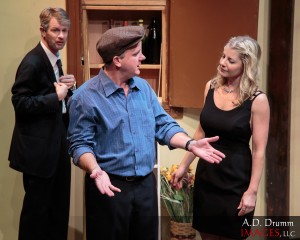 We attended the show last night, so I had a chance to pay closer attention. It's a great story, touching and funny both. And it's well played.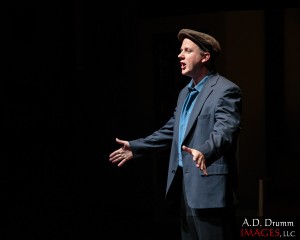 This was opening weekend – there are two more weekends of shows, so you can still see it yourself. It's a great way to spend an evening – watching real live people perform right in front of you. (Just turn off your electronics – cell phones ringing are annoying!)
Thanks to Bill for asking me to shoot the show! It was a blast.