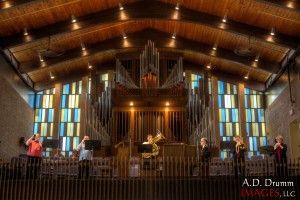 On Sunday, I attended and photographed Classic Brass playing a benefit concert for Spasmodic Dysphonia at Gloria Dei Lutheran Church. SD is a voice disorder, and there's more info here.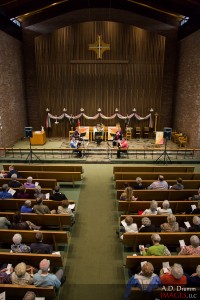 Classic Brass is a local brass quintet. They play regularly in the area. Warren Bandel, one of the two trumpet players in the group, is a regular member of the pit orchestra for Rochester Civic Theatre's musicals. He's been playing during the musicals for many years (since he was in high school, I believe!). He's usually responsible for those wailing high notes.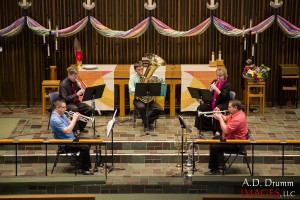 They played a range of music including a couple numbers accompanied by the church pipe organ played by Harold Vetter just filling the building with amazing sound.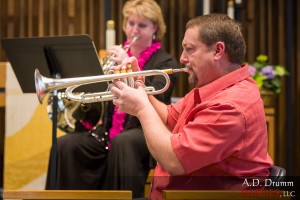 I've been a fan of horns since I was a kid. I still have a stack of Herb Alpert's LPs somewhere. During my high school band years, I (along with many of our band members) developed a taste for what was then called Jazz-Rock. Bands in that era were Blood, Sweat and Tears (leaning more toward the jazz side) and Chicago (leaning more to the rock side). A short-lived group was headed by uber-trumpeter Bill Chase, named Chase for him. They had a concert at a local high school following a day of trumpet workshops which I think a couple of our band trumpeters attended. If you haven't heard Bill Chase play – and you like amazing trumpet work – it's worth looking him up. He and his group sadly died in a plane crash not long after I saw them.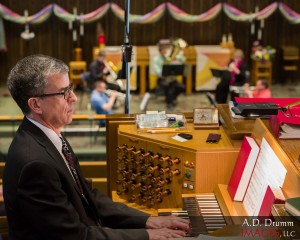 I thoroughly enjoyed the concert Sunday. Most of the photos I took were before intermission. After intermission, I sat down and mostly just listened!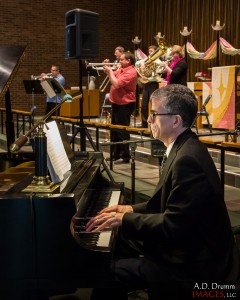 We have some truly amazing talent here in our relatively small neck of the woods.