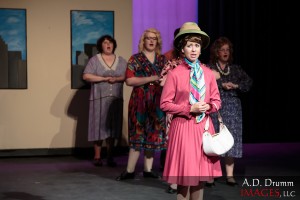 On Saturday, I photographed the final dress rehearsal for Summerset Theatre's 9 to 5: The Musical over in Austin, MN. It's a musical stage version of the movie with music and lyrics by Dolly Parton – who, of course, wrote the title tune and starred in the movie along with Jane Fonda and Lilly Tomlin.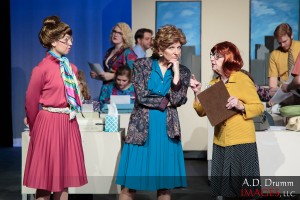 It's pretty light fare and fun, and Dolly's songs are great. It's easy to forget how prolific and good she's been as a songwriter. It also carries a lot of the movie's 1980s sensibilities.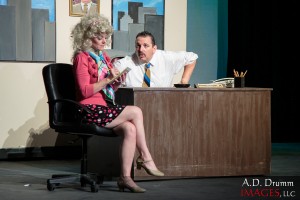 This show had some additional significance to me. This was my one-hundredth theatre shoot! My first show to photograph was Neil Simon's The Sunshine Boys back in 2005 at Rochester Civic Theatre. I reached fifty shows in 2011, so the second fifty has been a bit faster.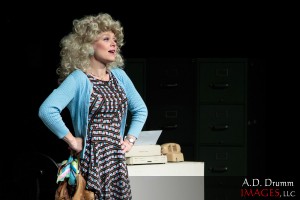 We used to shoot all the RCT shows staged with a special call for the actors. There are some advantages, and it can be helpful for fast-paced action or very low light – I'd sometimes ask the stage manager to bump the lights for a particular scene.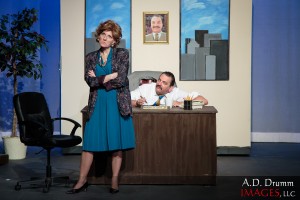 But, as I branched out  to other theatres, I started shooting the shows live, and I've grown to enjoy shooting that way. Technology has helped, as my camera is much more tolerant of low light than the model I used for my first show.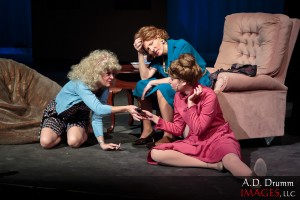 I'm now doing the same at the Civic, and I believe the actors (and director and stage manager and crew) appreciate not having to spend this extra time.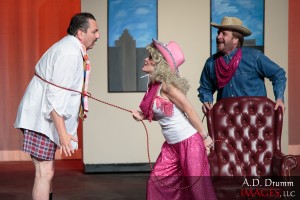 Summerset Theatre puts on three shows in the summer. 9 to 5 is their first for this season (my fourth season photographing their shows). While it's a musical with lots of singing and dancing, the lighting and sets are appropriate to the story and not like Cabaret or Les Mis. So, the photography was technically more similar to non-musicals.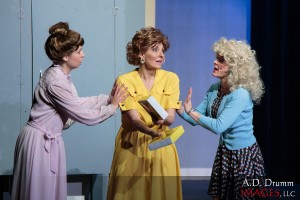 I tried to capture the fun moments and expressions that help show the comedy.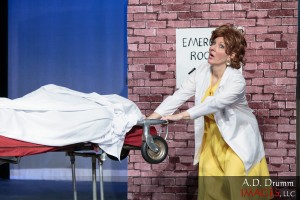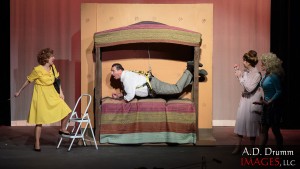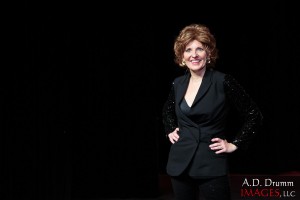 There are some more tender moments rounding out the show, as well.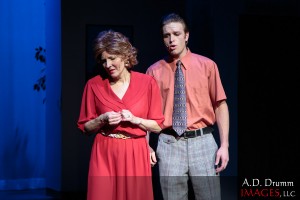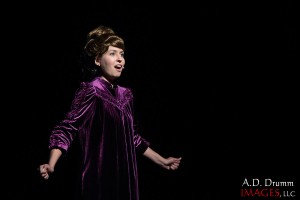 This show runs through Saturday, so you still have time to see it. I also have to mention the top-notch pit orchestra – lots of talent there as well as on-stage!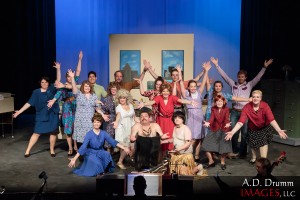 Next up at Summerset is The 39 Steps. RCT's artistic director, Greg Miller, will be on stage for that show, so we're hoping to gather some of our Rochester theatre peeps and caravan over to see it. That plays July 7 through 11. Then they end their season with A Funny Thing Happened on the way to the Forum. That will be my second time shooting that musical! It runs July 28 through August 1. More info is on Summerset's website.
I'll be shooting my first show at the Rep next week – number 101. Should be fun!
See you at the theatre!