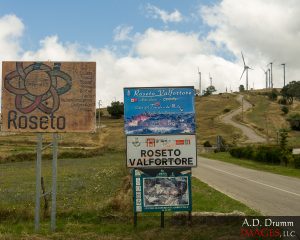 In August, I left for a two-week solo trip to Italy. Traveling light, I decided to take my travel camera, the Olympus OM-D E-M10 with a 14-150mm super zoom lens. That's equivalent to 28-300mm for a full frame camera and shows the value of the micro-four-thirds system for traveling as everything including lenses is much smaller and lighter. But, yes, there were a few times I wished I had the bigger camera.
My Italian travels began with a drive from Roma Fiumicino airport south to the small village of Roseto Valfortore in Puglia, the home town of my grandparents (miei  nonni).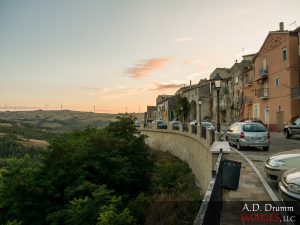 They left this village in the late 1890s, I believe. I likely have relatives still there, but I really had no idea what to expect or what I would do once there. But, I wanted to see it and walk the streets, and just take it in.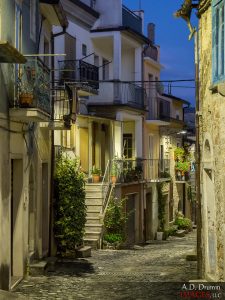 Indeed, the older part of town has what are basically alleys some of which are large enough for one of the small cars common in Italy, but many are not. It's built atop a hill with the surrounding hills covered in windmills. The roads into town are narrow with very rough patches here and there – narrowing to one small lane in places. And if you follow GPS instructions, you can end up on farming roads that I came to describe as paths.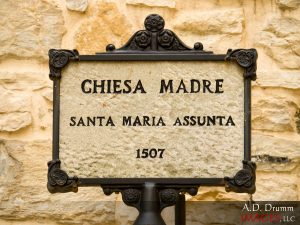 Still, the town is pretty, especially the older section, and it exudes quaint European ambiance. The older men sit in the cafe or at a table outside the cafe playing cards. Or sit in chairs outside the Tobacchi (tobacco shop) as you might see in movies.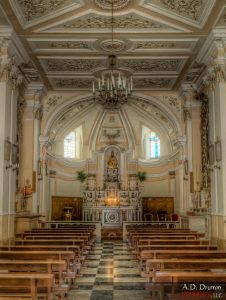 The small churches are old and works of art. Everyone knows everyone which was critical for me to find my hotel as it was on one of those alleys and street signs were not great. (No cell service prevented me from trying to call.) And prices were low, €0.80 for espresso, a nice meal could be had for less than €10. Just don't try to eat in a restaurant after 18:00. "Tardi!" Gelato or a pastry at the cafe can be supper, right?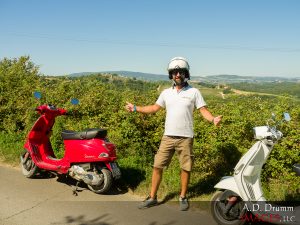 Leaving Roseto, I drove back to Roma Fiumicino then took a train to the Roma Termini train station and a fast train up to Firenze (Florence). I was going to visit the seaside region of Cinque Terre and wanted to break up the travel. So, two nights in Firenze would do that and give me a day in a city I love. A friend who spent time in Italy earlier this year suggested the winery tour she did and gave me a pointer to their web page: Fun in Tuscany.
Their site showed several options including a Vespa tour. That sounded terrific, so I signed up before I left home. It turns out I was the only one participating in the Vespa riding, so it was just me and my guide, Antonio (perfect name for me to remember!). Since I ride motorcycles, we took the more challenging but more scenic roads through the wine and olive country. We stopped in San Gimignano for gelato – which was wonderful – and sat on steps in the shade. While I ate, we talked about southern Italy, Italian culture, Italian families, and food, and who knows what else. It was great!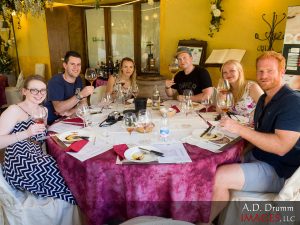 Eventually, we ended up at Tenuta Torciano winery for a wine tasting and multicourse lunch. I was done riding, so the wine was not a problem. I met up with others who were in the same van I was in leaving Firenze along with another van-full of folks. They were on the regular wine-tasting tour. We caught up with them earlier where they were tasting some wine at another winery – what Antonio described as a "warm-up" tasting. I drank water!
This tasting was more involved and the food was wonderful. After we returned to Firenze, I had drinks with the group at a couple places. They were from all over – New Zealand, Canada, Australia. One couple lives in Chicago but met at UND.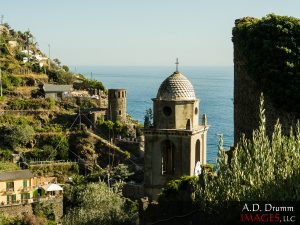 The next day I left Firenze. My train was to take me to La Spezia, where I'd take another train to Vernazza, one of the five Cinque Terre towns. After a sizable delay, a woman came through the train telling us "broken!" and sending us to the next platform for a train to Pisa. That train was jam-packed. I stood by the doors for the hour ride to Pisa where I met a couple from London on an extended trip through Europe. In Pisa, I found a train to La Spezia. Didn't see the famous tower as it's quite a hike from the train station. In La Spezia, I arrived at nearly the time for my scheduled train to Vernazza to leave. It was still there and I managed to get to the platform before it left, but just barely, and the doors wouldn't open. But the next train was only a 15 minute wait.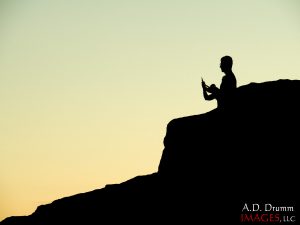 Cinque Terre is a set of five small towns built into the steep hills overlooking the sea. Above them are stone terraces with grape vines and occasionally olives or lemon trees. These terraces are hundreds of years old and had to be amazingly difficult to build. They remain a lot of work to farm.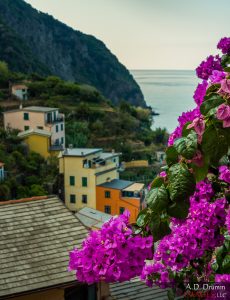 The towns themselves are beautiful. The buildings are colorful. And old. Churches are ornate, old, and photogenic, although the age is apparent when you're in close. Getting around is pretty easy. There are trains passing between the towns and spending most of their time traveling through tunnels. In Vernazza, the open part of the station is only about two train cars wide. You generally walk along the platform into and out of the tunnel to board or exit the train.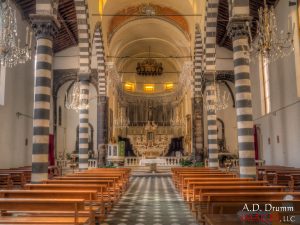 There are also trails between the towns, and you see many hikers especially early in the mornings. Some of the trails are closed due to mudslides several years ago. Getting around generally involves a lot of climbing in nearly all the towns. The views are worth the climbs. Some spots are near the trails, and you can look at the hills bordering the towns and usually see hikers on the trails if you look in the right place.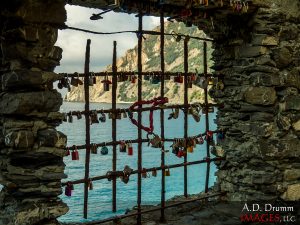 Each of the five towns has its own personality. All have places to swim, but one has a larger, more traditional beach, Monterosso al Mare. It's the northern-most of the five and the feel there, to me, was different and more overtly touristy. All have tons of tourists especially in midday. I would head out in the mornings when it was quieter and crowds were minimal.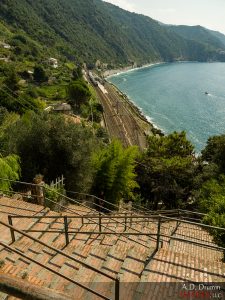 One town, Corneglia, is built up on the hill rather than down at the water. The train station, though, is at the same altitude above the sea as in the other towns, so there's either a rather lengthy climb up or a shuttle. One can take the shuttle up and walk the stairs down, too, which is what I did.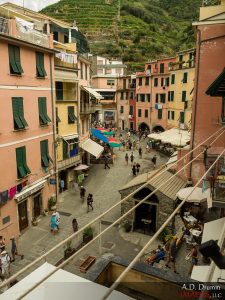 My room in Vernazza was more like an apartment with a kitchen area and dining table. It made a great home base. The large windows faced the main street, a couple stories up giving me a great view. Getting to the room required climbing several sets of stairs, but in alleys, not withing a building. The entry door looks like you're walking into the ground floor, but once inside, the window view shows you otherwise.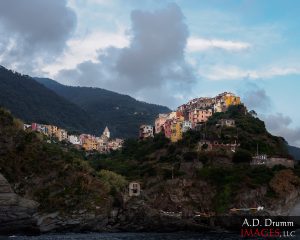 One evening, I paid one of the boat operators to take me out at sunset. He took me down the coast so I could take sunset photos of four of the towns. They face mostly to the west, so the late sun illuminated the towns with nice light. There were some clouds over the towns most of the day, but as the sun dropped, the clouds dissipated. I sort of wish they remained to add to the drama of the view, but you get what you get. This is one place my better camera would have been nice. I'm glad I didn't have the weight to carry around, but…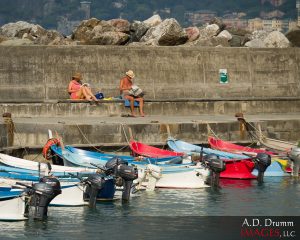 I visited all five towns at some point, but then I stuck around Vernazza. I found a great restaurant for breakfasts and dinners away from the crowd and serving better food than the places down by the water. Had a couple of my favorite desserts there (dolci).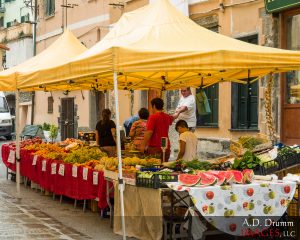 Tuesday is apparently market day, and the street is filled with tents and trucks of fruit, vegetables, fish, and clothing. There was a bit of drizzle that day but not for long.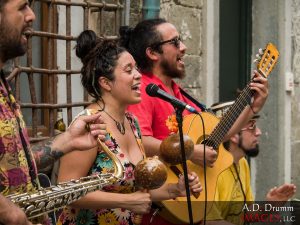 One afternoon, resting and cooling off in my room, I hear what sounded like latin American music coming from the street below. It was a quartet from Chile. They were also visiting Cinque Terre for the first time. They were doing something of a European tour.
These towns, besides the tourist crowds, resembled the quaintness of Roseto. Just feels like a slower pace, many locals going about their daily work.
From Vernazza, I took trains to Milano – a large city to the north and one some consider  the fashion capital of the world – perhaps along with Paris. It's an interesting city with some beautiful art, the great Gothic cathedral, Duomo, and home of many great Renaissance artists.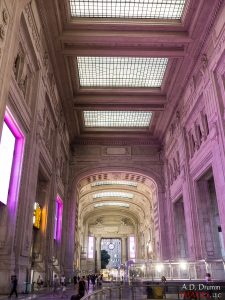 I was there two years ago, attending the Italian Grand Prix in nearby Monza, and I was there this time again for the Grand Prix. Da Vinci's Last Supper is in Milan, and I was unable to visit it my first time there. For this trip, I set aside an extra day and made sure I secured a ticket way ahead of time. One small group at a time is let in to see the work for 15 minutes. You go through staging areas to help reduce the humidity that gets into the room containing the fresco painting. Worth the wait, even though it has deteriorated a lot. It is still awesome to see such a work by such an artist. And just sit and look at it, study it.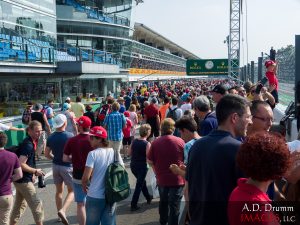 The final part of the trip was to again attend Gran Premio d'Italia in Monza. This is the annual Formula 1 race. I discussed it previously in my trip discussion from two years ago. The one thing I did this time which I hadn't before is attend the pit walk for three-day ticket holders on Thursday before the race. Last time, I flew in on Thursday, so I didn't want to add that to the travel day and dealing with jetlag.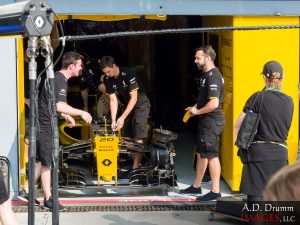 On Friday, Saturday, and Sunday, you can take a train to the Monza station and then shuttle buses from there to the park (the track is built within a large city park). On Thursday, there's no shuttle, so you take city buses. I wondered if I'd be able to figure out where to catch the bus and if I'd get the right one. Silly me – there are hundreds of others doing the same thing. Just follow the crowd!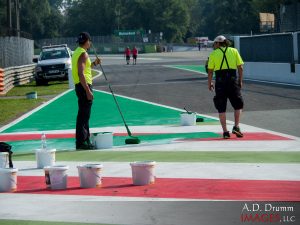 I took plenty of photos of cars last time. I still took some car photos, mainly to see what the little camera could do (conclusion: no match for the 5DIII), but I focused more on people – workers painting stripes…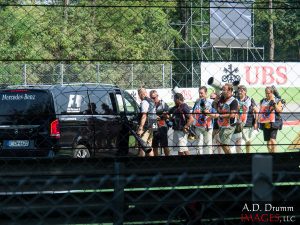 Photographers being loaded into an SUV after the track action was done…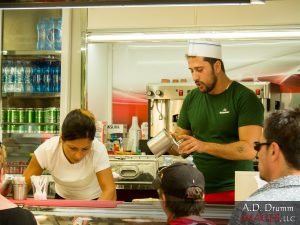 One of the food vendor guys making a real cappuccino, because this is Italy and you're going to have good coffee, alright?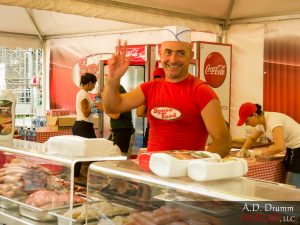 Or the fellow cooking up sausage or hot dogs fresh on a grill, because this is Italy and you're going to have good food, alright?
I actually kept going back to the food sites and watching and looking at the variety. I have a photo of one with a sign, "Panini Caldi," in big letters – "hot sandwiches." There was pizza, too, but even the hot dogs were sliced lengthwise, heated on a grill, and served on good bread. Prices oddly seemed to vary. Birra (beer – almost all Heineken – a sponsor) ranged from €5 to €8 and acqua (water) ranged from one euro to €2.50. Most had it for one euro. Which was good, because it was really hot and humid.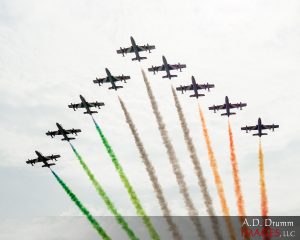 Friday is a practice day, Saturday is qualifying, then the race is Sunday afternoon. Sprinkled through the Formula 1 activity are other lower class races. There was a Porsche series race with lots of action and a couple pretty bad crashes from which, fortunately, the drivers walked away.
The F1 race is the main event and a spectacle. So, we had the jet flyby (I think the US is the only place that colored smoke isn't used). There's a driver parade with all the drivers on a big flat-bed driven around the full length of the track to wave to fans while an on-board reporter and film crew interview them as they slowly drive around.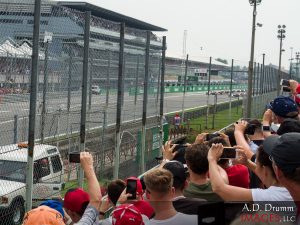 Then they line up on the grid, eventually make one parade lap lining up again on the grid, then make a standing start. Which is pretty cool. I had a decent view of the start. After that, I could see the cars leaving the pits right in front of me, and the cars going by on the front straight are passing at something over 200mph. Something of a blur!
After the race, I hurried to the train station, returned to Milano, picked up my bag where I checked it for the day, and bought my ticket back to Roma Termini. That left me some time to grab a bite in the station – and the Milano Centrale station is massive with plenty of shopping and food choices. I then popped into a favorite cafe I found two years ago with the best canolini. Just fabulous. One final canolino before leaving for Rome.
In Roma, I stayed at a more typical (European style) hotel – the first of the trip and by far the most expensive. But I was less than a block from Roma Termini. In the morning, I had breakfast and a cappuccino out of a little multidrink machine – not as good as those at the race track. Then I packed up and headed to Fiumicino to do the whole security-customs thing and fly home.
It was an incredible experience, one I have trouble not talking about at length. That will probably subside as my memories fade a bit. Food was great as I expected. The people were mostly very friendly (less so in Milano which just has that big city feel). Driving was, well, interesting. The tiny(-ish) camera was good for the most part, and I was certainly glad for it's size and weight. Knowing just a little Italian seems to help you connect to people. Even replying "prego" after a server says "grazie" will get a different reaction than just answering "grazie" back. In the small towns in the evening, a stern look will change to a smile with "buona sera" and a returned "buona sera."
I kept something of a journal on my iPhone during the trip and used that with my favorite photos to create a photo book. It will help me remember some of the fun details. If you happen to stop by some time and want to see it, just let me know. But it might make me talk endlessly!
Will I return to Italy? If I can swing it, absolutely!