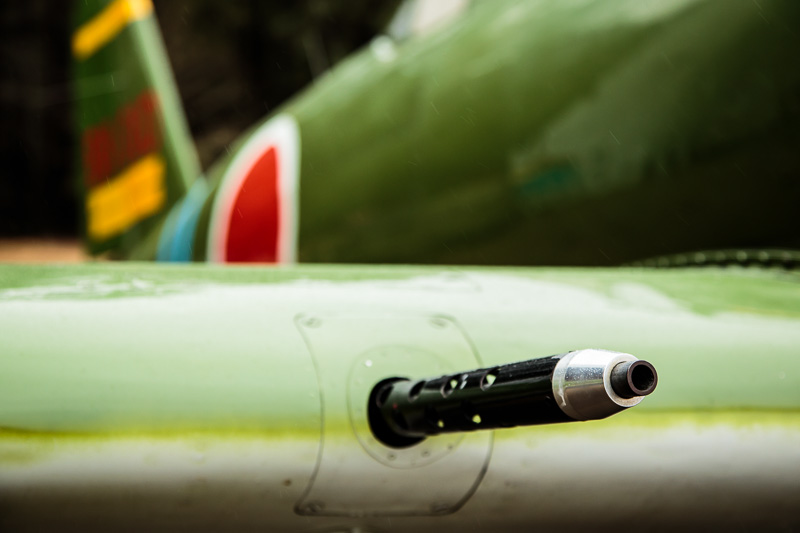 I just returned Friday from my third Photoshop World. My first two were both in Las Vegas, but this time, I attended the conference in Atlanta. There are two conferences per year, one somewhere along the east coast and one in Vegas. I signed up for one of the in-depth workshops that most of us call pre-cons (for pre-convention). This was a class with Moose Peterson. If you've read much of my blog, you'll know I've attended several workshops with Moose. He's one of a few photography instructors from whom I always learn something. His vision and understanding of how we see photographs is awesome.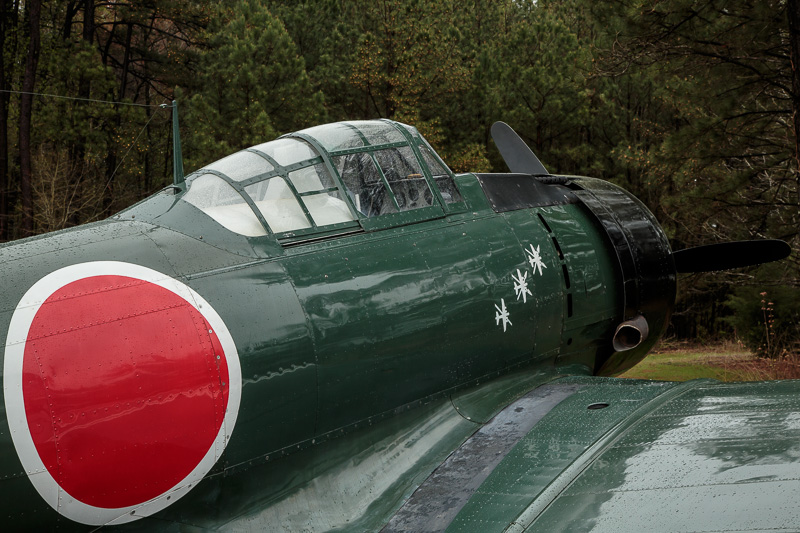 Moose shoots wildlife and landscapes, but the past several years he's been shooting vintage aircraft. His air-to-air work is pretty amazing. So our Photo Safari took us to a small airport south of Atlanta housing a chapter of the Commemorative Air Force, folks who buy, restore, and fly these old birds. I've seen many of them at airshows when I was regularly attending those (mostly at Dayton, OH). The plan (Plan A, as Moose called it), was to have models there in vintage uniforms as well as the aircraft. But the weather had other ideas, leading to Plans B, C, and D. Moose explained that their uniforms are the real thing, so standing in the rain is not going to happen.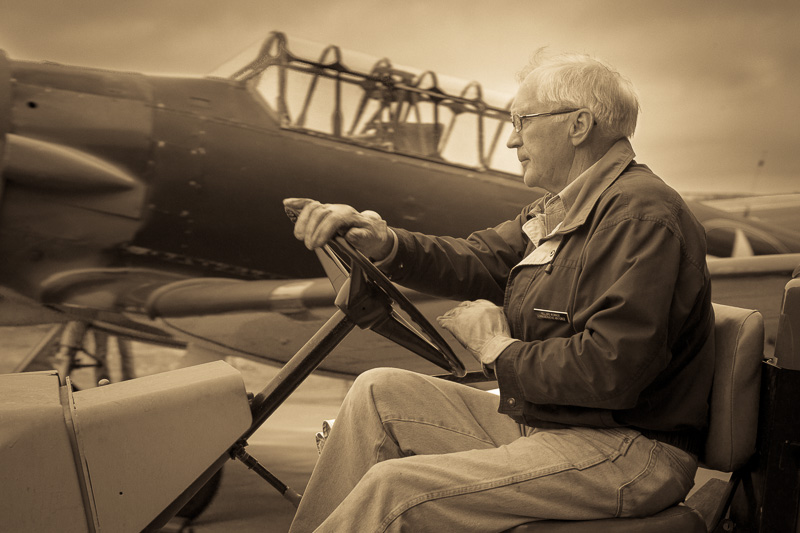 But the CAF folks were great and moved the aircraft out and shifted them around for us. As photographers, we need to still find a shot. I took plenty of photos of the aircraft and did some close-in, detail shots. But I also grabbed some shots of the people who were there. The fellow on the cart moving the airplanes made for a good subject with the planes behind him, and the shot above just said to me a vintage treatment was needed.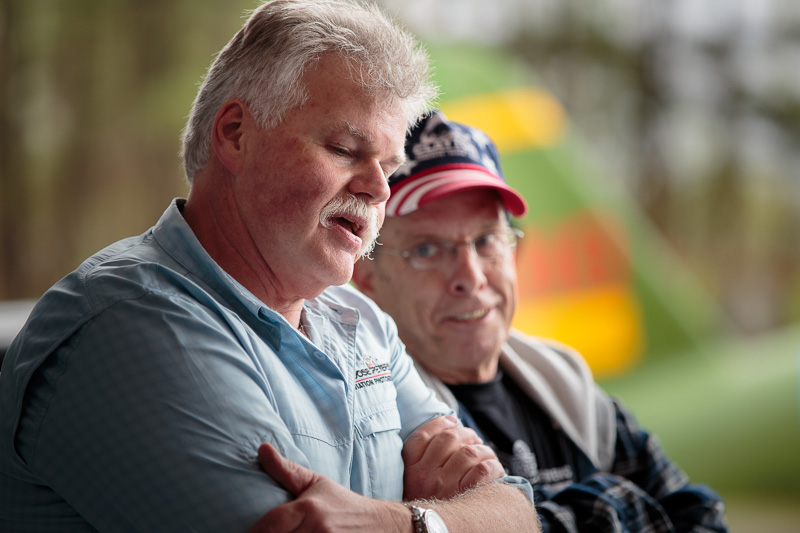 Moose did a little lighting demo as he's been shooting his pilot friends with their prized birds. So, he showed his approach to lighting them. Prior to the field trip, Moose showed some of those portraits and talked about the other half of the lighting – that provided by a setting sun.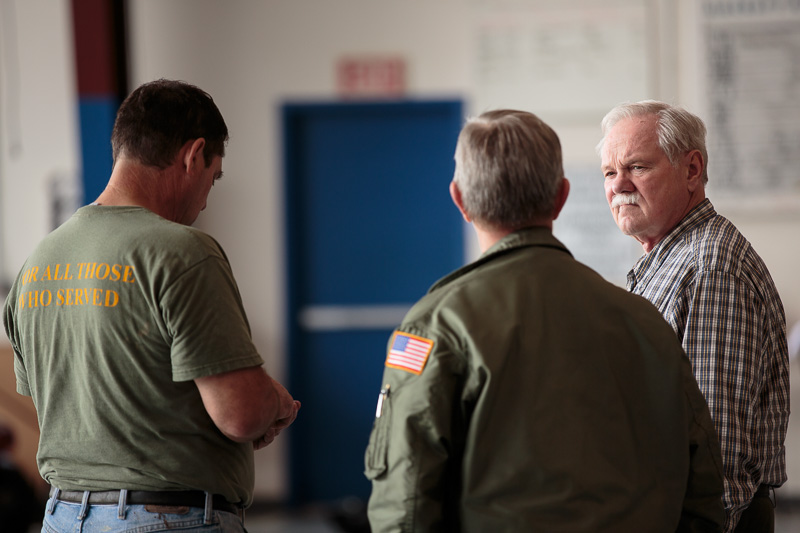 The pre-con was just one day, though. The real event started Tuesday and ran through Thursday. Each day was filled with events and classes and the Expo floor. I don't have many photos from those days – mainly a few on my iPhone – but I did take the big camera to the opening event. As a PSW alum, I knew this would be a ton of fun with some cool photo opportunities. They usually begin with a video featuring Scott Kelby and instructors from his organization with some whacky theme which is then carried throughout the conference. This year, the theme was pirates, and the video was a take-off on Pirates of the Caribbean. Kelby's video production staff is truly top notch; the videos are really well made and fun. At the end, the "stars" come out on stage live. And this time, they took a selfie!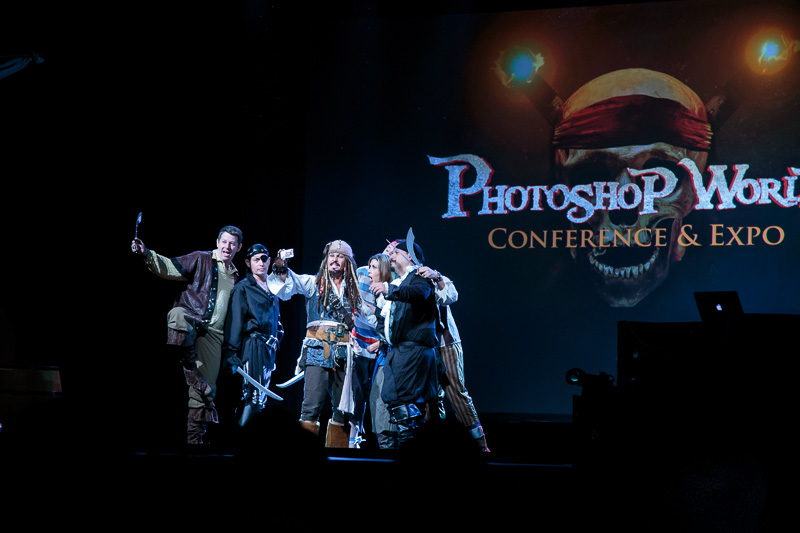 After the opening event, it's down to business. I think my favorite part of PSW this year was the variety of classes and how many were really new and different from the last one I attended. Highlights for me were Frank Doorhof, a terrific portrait photographer with a vision that's truly wild and unique, and Peter Hurley, a NYC headshot photographer. I've seen video training from both, and it was fun to meet and talk with them. And Peter is hugely entertaining while he imparts his approach to making his subjects look real and engaged. It was his first time speaking at PSW and his two sessions were packed.
There were also many other great instructors, and I was able to say hello again to Joe McNally. Joel Grimes always has great ideas, makes me really think. It's not just work as there's a party the first night and Midnight Madness the second. The second day – especially if you get up early for the Midnight Madness ticket handout – is packed with classes and for me, the longest toughest day. But if you pace yourself, it works.
The Expo seemed smaller to me than in Vegas, but I ended up leaving with a few purchases including Frank Doorhof's book. Signed, of course.
Photography – I think like any art – is a lifelong learning experience. Techniques, ideas, vision, new or different ways to see light and place it on paper (or on a screen). Photoshop World is an exceptional way to immerse oneself in a learning experience. This will hopefully not be my last time attending!