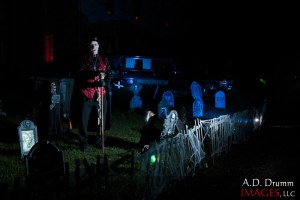 Once again, Rochester Horror is presenting their Fright at the Farm at the History Center of Olmsted County on West Circle Drive. It seems each year, they expand, now covering most of the barn main and lower levels and lots of the grounds around it.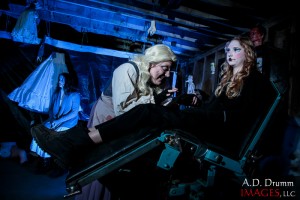 Each area includes live actors performing as you're guided from one "set" to the next.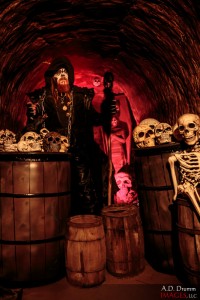 I've shot these in the past, and each year I try to find a way to light the scenes while keeping the feel of the scene intact. I tend to use gels to mix with the existing lighting. Unlike stage lighting, these scenes are dimly lit generally, so I'm trying to boost that, get some light on faces and enhance what's there.
This year, I used two to three speedlites for most of my shots (all off-camera, of course). The skeletal pirate in the cave was one of my favorites. I matched the existing red light in the back with a gel'd speedlite and balanced a bit of CTO gel from the front.
As we were leaving, the misty graveyard with it's spooky mausoleum was looking pretty cool, so we stopped and shot a few frames. Here, I left the ghost to its own lighting and adjusted the exposure as needed.
They'll be there one more weekend. It's a fun way to spend a cool evening!