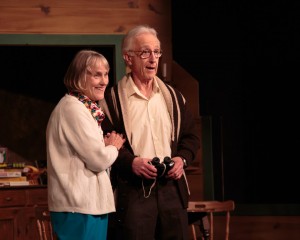 The current show at Rochester Civic Theatre is the play On Golden Pond running a couple more weekends. But the run is sold out!
I vaguely remember the 1981 movie mostly because of the high-profile casting of Katharine Hepburn with Henry Fonda and his real-life daughter Jane. With the focus on the father-daughter relationship, I remember that casting being especially interesting.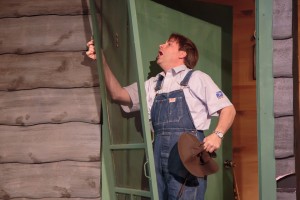 The story takes place at a summer cottage on Golden Pond, a small lake in northern New England. That may make the story relevant here in Minnesota where there's a similar tradition. And, while shooting the rehearsal, it made me think of the lake in Michigan where Lynne's grandparents had a cottage, and where she'd spend her summers. The lake was a big part of their lives.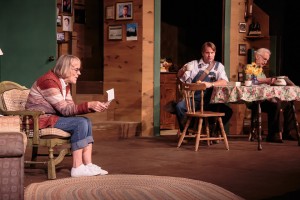 There's a single set for the show – the inside of the cabin and a lakeside porch. The style reminded me of Neil Simon shows. I tend to think of them as day-in-the-life stories. You're witnessing a day or a series of days in the life of some ordinary people during which they experience something and grow. That they are ordinary lets the audience relate to them.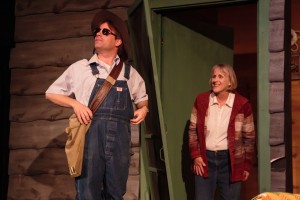 The lighting for the show was what I'd expect for this kind of show. Not a lot of dramatic gel'd lights, pretty consistent and well lit. That helps the technicality of photographing the show and allows me to focus on composition and story-telling.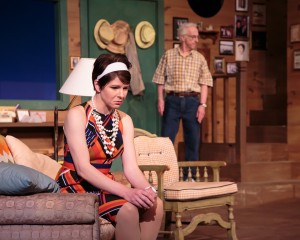 There's lots of good interaction and interesting blocking to work with. And the actors are all top-notch, so I had a lot of great emotion and expressions to capture.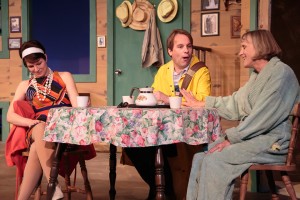 I also enjoyed the use of color between the set and the costumes. The warmth of the wooden-walled cabin made a great backdrop for many of the shots. And who doesn't like a bright yellow poncho?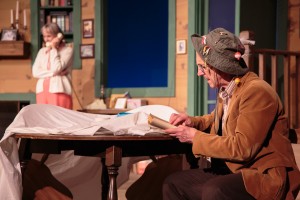 There were a couple shots I considered putting here in the blog, but I decided they might serve as visual spoilers to someone unfamiliar with the show. So, I left them out!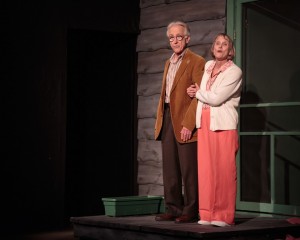 Hopefully, you're one of those who bought a ticket – as I mentioned, it's now sold out. This is the final show of the 2014-2015 season at RCT, but next season looks great with eight shows. It will be a pretty full schedule. There's also construction that will be happening giving RCT a new box theatre which should provide a great venue for a wide variety of performances.
I'm looking forward to next season. Meanwhile, Summerset Theatre in Austin will be starting their summer season of three shows soon. Good times!