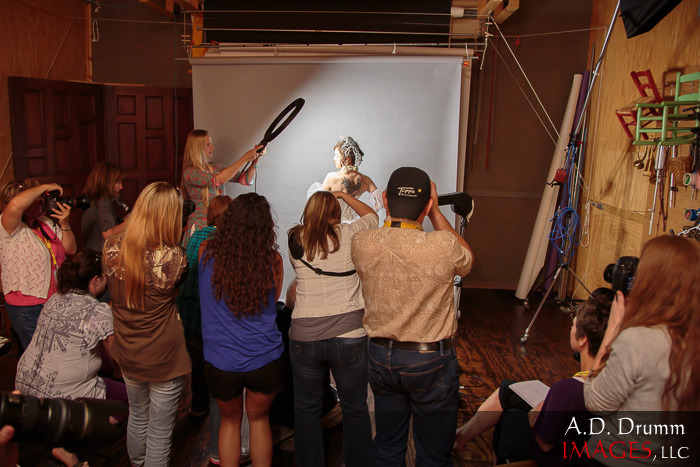 Our local professional photographers group, Southern Minnesota Professional Photographers Association, meets monthly with various programs, usually 2-3 hours. This month, we brought in Brian DeMint (see his work here) from Missouri. Brian brings a background of painting to his photography, shooting rather ingenious looks and adding his artistic interpretation in post.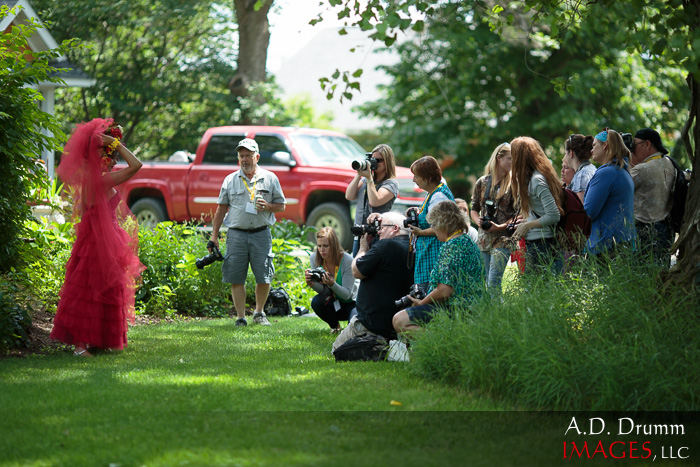 We had a full day of presentations and shooting with two fabulous Minnesota models, Molly Olimb and Brittany Bueckers. Brian's wife, Dena, provides the hair and make-up. The event was at the studio of Sonja Miedtke, a country home with beautiful grounds, buildings, and various props perfect for portrait photography.
When there are lots of photographers shooting a model, one needs to try to find something a bit different. I tend to be drawn to faces – I gravitate toward closer, more intimate shots. I also played with a technique I learned at Photoshop World in Atlanta. Model shoots like this are a perfect place to play with new ideas. Once I had found a few photos I liked, I pushed a little more in post than I'd typically do. If you've seen my personal projects, you know I have no problem opening Photoshop and letting its tools fly. But my general portrait work tends to be more subtle. But with a nod to Brian, I let these images speak to me and guide me onward. I was rather surprised to find a couple photos, one of each of our models, that just wanted – or, maybe, had – to be monochrome. In fact, the photo of Molly above was the first photo I really put any effort into, and it just said monochrome. The treatment I used actually left a smidge of color, but I think the processing fits the mood of the photograph.
Others just wanted color and lots of it. The red dress was fabulous, and it was amazing against the greenery.
It was a terrific day full of ideas and inspiration. And mosquitos. But, hey, this is Minnesota, so there will be mosquitos!