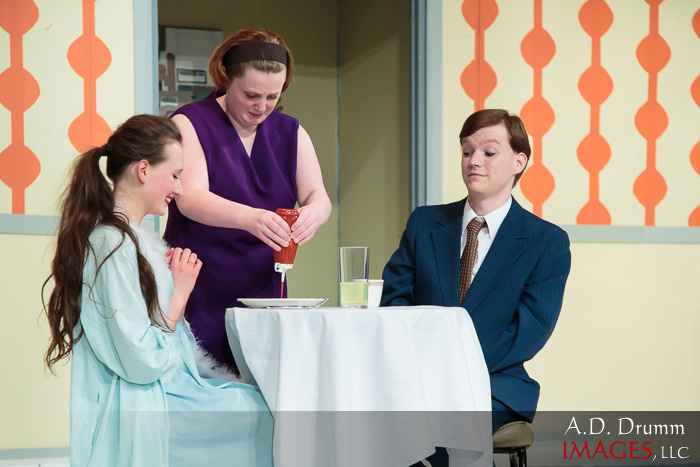 I recently shot two shows, one each at Riverland Community College and Rochester Civic Theatre. Both shows were shot live just a few days apart.
Riverland's show was Boeing Boeing, a French farce taking place in the early 1960s as a fellow arranges to be "engaged" to three different women, all of them flight attendants. He is confident they will all remain ignorant of the others because they are in town on tightly scheduled days. But, they all inform him of the new Boeing jetliners that will make traveling so much faster and give them so much more time together. The typical farce activities then ensue.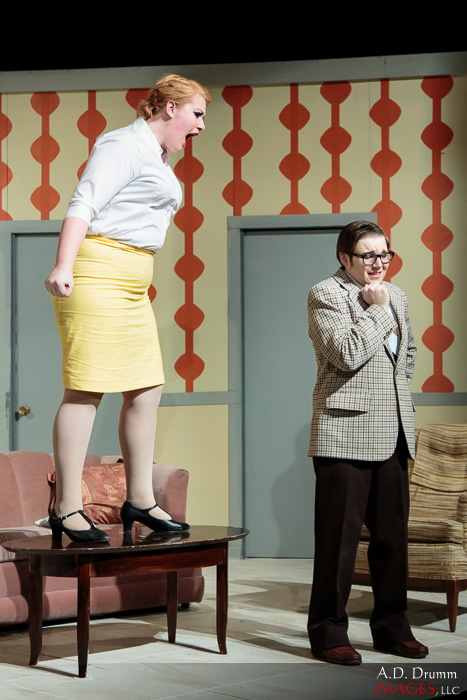 The show is staged in the fellow's flat, so there's a box set with bright walls and the lighting was, for the most part, nice and bright. There's a lot of fast paced action, so having good light and being able to use faster shutter speeds was a plus.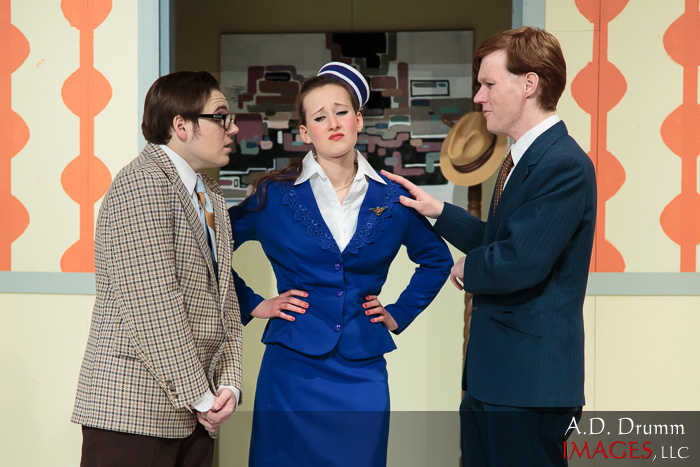 I think the name of the game for shooting a show like this is to watch for good expressions and gestures. Shooting a show like Rocky Horror, Riverland's recent show, is in some ways easier. You have more extravagant costumes and sets, and there's just more there visually to work with.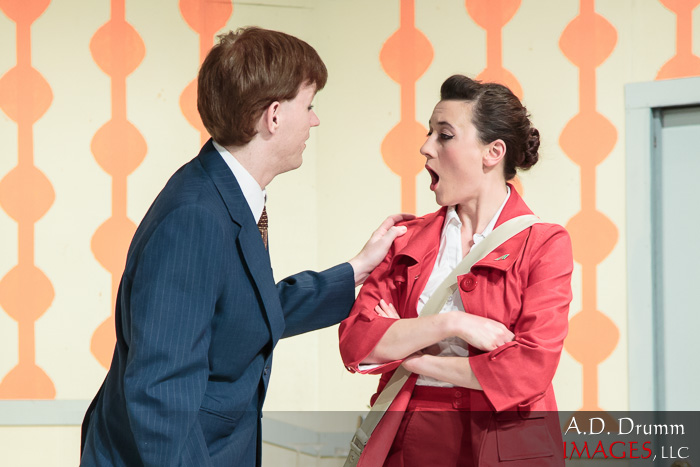 Here, you have to be on your game and watching for the reactions. It's really has to be more about the people, the characters. Otherwise you have only a couch or a table and a wall. Big musicals deserve to be about the characters as well, but the environment is entirely different, and one can make good looking photos without as much thinking. Of course, the great shots use that environment just to fill the frame and draw us to the characters.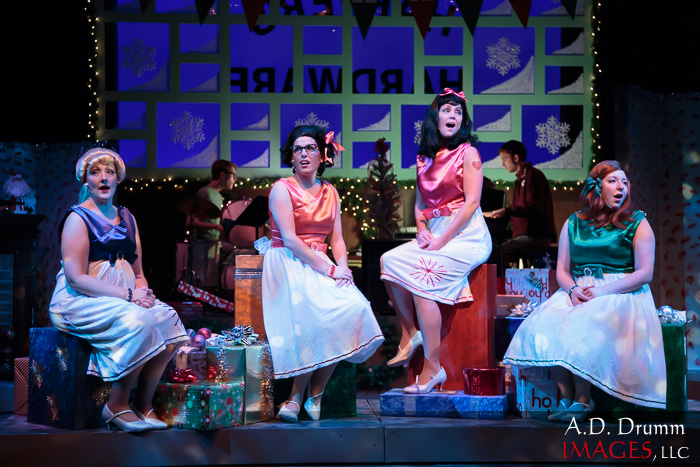 Over at Rochester Civic Theatre, they are producing Winter Wonderettes. This is a follow-on of Marvelous Wonderettes, a show they did early last season. It's basically a show filled with 1960s period songs, in this case holiday songs, with a plot loosely woven through it. There's a band on stage, up stage of the action, and four women actors/singers.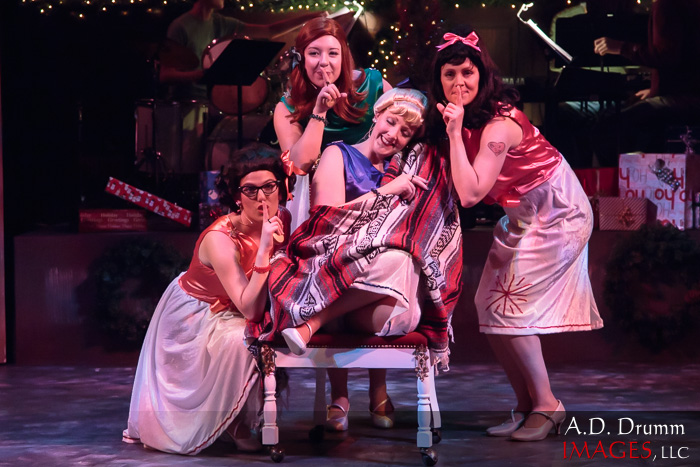 A show like this, more of a musical review than a more typical musical (and RCT's last show was Les Misérables), is more about finding the moments than the story. While I have shots showing the story along the way, it's the "moments" photos that I like best.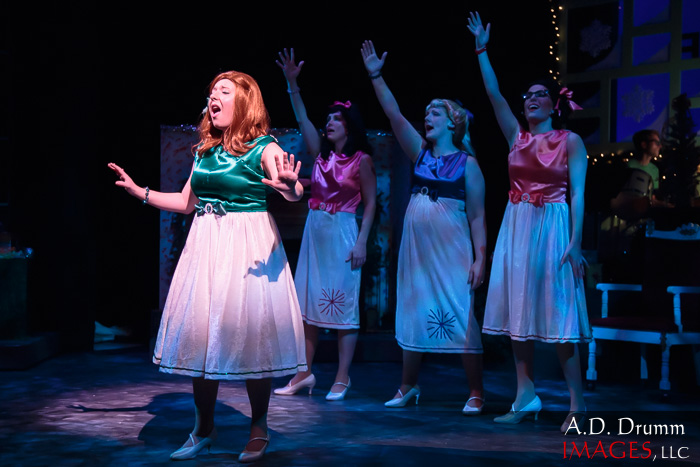 This show has some nice lighting effects to capture in photos. They help to draw us to a particular person, our subject for the photo. There were plenty of solos that have the lead singer in the spotlight, and the others together either watching or, more often, singing backup. Nice moments.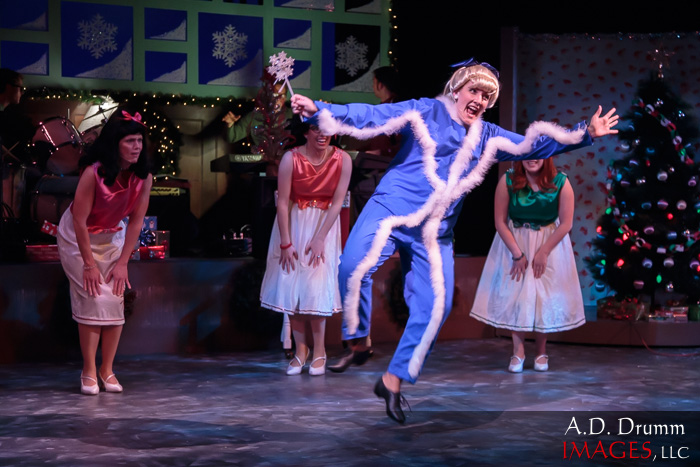 Then, there are whacky moments. It's an entertaining show, and it's filled with many of these.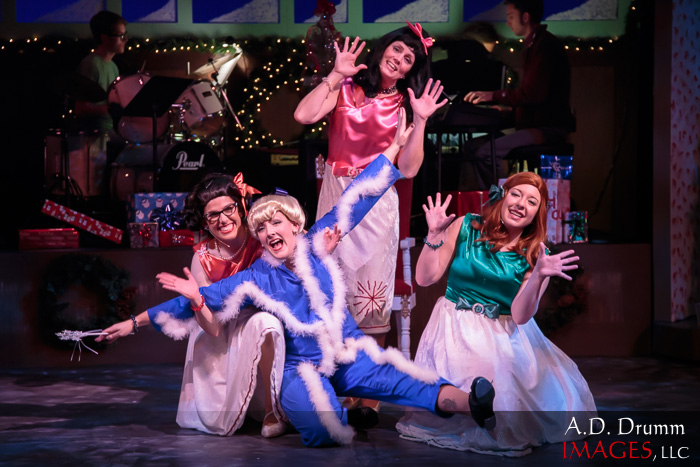 Technically, the lower light and contrast-causing spotlights make this sort of show more challenging than the box set farce. But the latter, as I said earlier, has its own challenges – more from a compositional and art point of view.
For me, the diversity is fun. While I can categorize each show photo shoot to some degree, they are all different, and the differences keep the photography enjoyable.
Winter Wonderettes is still in production at RCT. I'll be there again tonight. It can be a great way to spend a cold December night in Rochester!