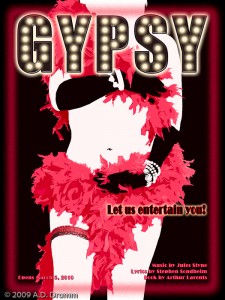 This is the poster I created for Rochester Civic Theatre's next production, Gypsy, the spring musical for 2010. Greg Miller, the fantastic artistic director at the theatre develops the concept for the posters. Then it's my job to interpret the concept and bring it to life. I think Greg and I collaborate pretty well. Lynne helps with logistics, and she provides valuable feedback and insight as the project progresses.
Being a photographer more than graphic artist, all my posters build on photographic elements. Here, I used a model with a big feather boa. It was a tough shoot. The goal was a high contrast, graphic look, so the white and black part was a given. But we needed color and red just felt right. What can I say? I love red.
The kick-off for the next season is coming, so work on the new posters is beginning. They're on my mind, and I'm trying to envision what I need for the shoots. Some cool lighting for a couple of them, and I'm looking forward to that. Then, time in post-production with Lightroom and, mostly, Photoshop.
You won't see them here – or anywhere – I'm afraid, until the official kick-off! Shhhh. The show list is a secret!