Riverland's Into the Woods
October 25th, 2015
Posted in Theatre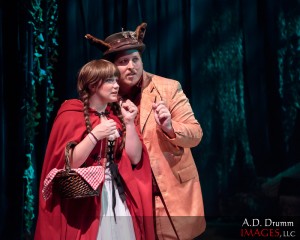 Earlier this month, I shot the first show of the fall semester at Riverland, Into the Woods. It's a Sondheim musical that's a sort of mash-up of several fairy tails into one story. It was made into a movie last year which was my first experience with the story.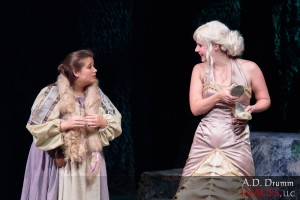 I find I really enjoy Sondheim. Music and lyrics are engaging and fun. The Riverland folks did a great job with it. I'd have loved to sit through it as a regular audience member, but I didn't make it back to the show after shooting the final rehearsal.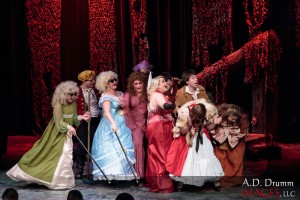 Photographing the show was fun, though. The set – the woods – was done well and lighting was a treat which is always great for me. Lots of colorful costumes rounded out the look, giving me tons to work with.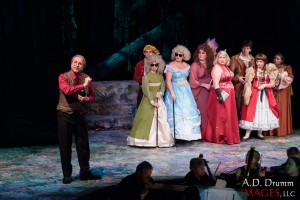 To shoot a show like this, it helps to have some good technical capabilities – a camera that can cope with lower light levels is a real plus.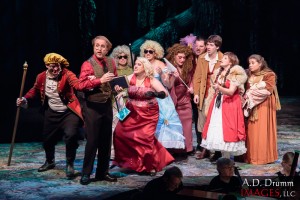 That's probably the biggest technical factor I need for shooting theatre. The 5D MkIII is up to the task, but I do sometimes look longingly at the spec for Sony's cameras and Nikon's using Sony sensors. But I love the ergonomics of the Canon and how it fits me.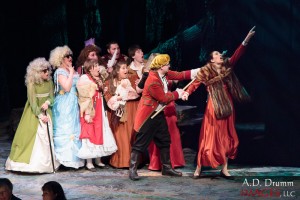 Rumors have the Mk IV coming "soon" which will perhaps improve in the low light arena. Meanwhile, there's really no complaining for what this hardware can do. Sometimes I recall where we were in film days, and there's no comparison. You work with what you have, but I'd never be getting this kind of quality if I was limited to film.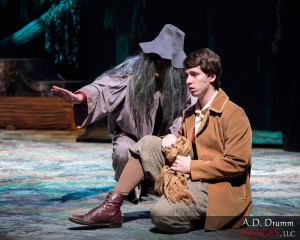 It's sometimes fun to go back and shoot "analog," develop it using smelly chemicals, waiting to see how you did until the processing is complete. It forces a discipline that's a useful exercise and produces a look that is just a bit different. It can be emulated in digital, but it's still somehow a little different.
When push comes to shove, though, I'd never want to give up the expansive world digital opens for us as artists.
I have another show to blog about soon, but I'm also looking forward to the next Riverland show I'll be shooting in November.